It would not be an understatement to say the world nearly fell out of my bottom as I pictured having to call everything off before we'd even started due to a severe lack of transport...
...a truly horrifying prospect as I pictured all those excited, expectant little faces waiting for me in Charlotte Sq... anyway, a few phone calls later, a minibus was diverted from Glasgow and dropped off at my place and we were on our way. Better late than never!
We were romping along through the beautiful scenery and everyone was in high spirits. Val was doing a grand job on the sounds and in a moment of inspired song choice irony Gerner requested the Rockney classic "Rabbit" by Super Spurs fans Chas 'n' Dave as a tribute to the recently deceased Chas. Does she have more rabbit than Sainsbury's? I couldn't possibly comment. It made us laugh!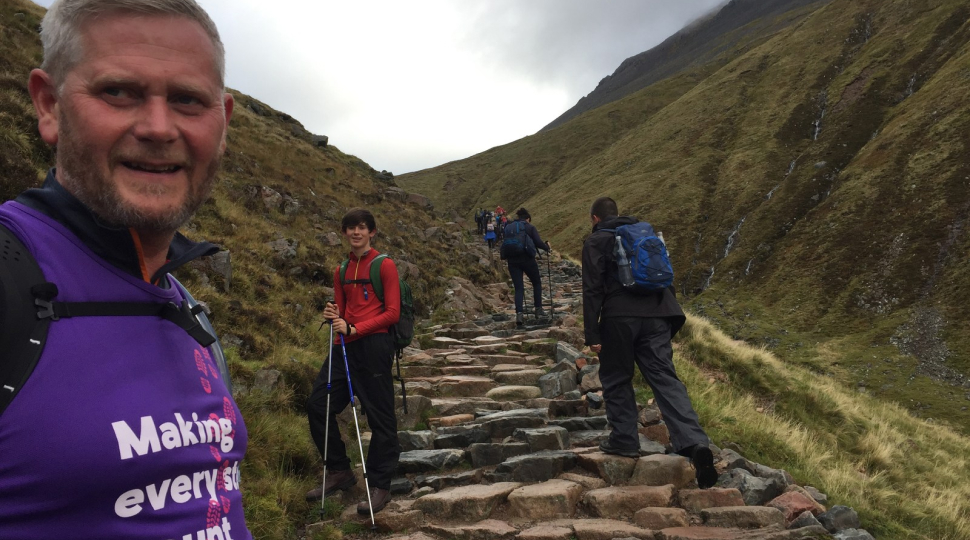 Fast forward through check in at the hostel, dinner in the pub next door, a few drinkies, an enormous thump in the night (never did find out what that was), breakfast, and we're mustered outside in the light rain. A quick briefing from the guides and we're off. It's steep. If you've not been before, believe me it's steep. And uneven.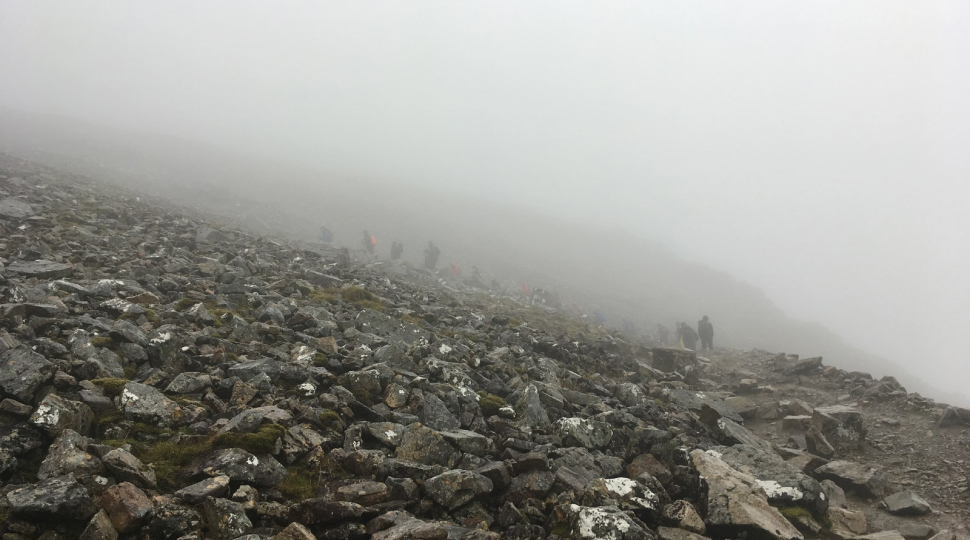 Going up was pretty tough and the guides were keen to keep cracking on, so those of us nearer the back had less rest time at the breaks – but the views (if you remembered to look up from the path) were amazing. Light rain (waterproofs on) turned to sun (waterproofs off), turned to mist (hoody on), cloud (waterproofs back on again), snow (hats, gloves, puffer jacket, balaclavas on) and into the semi-gloom. The weather was actually kind to us and we were able to get to the top, it was 70mph winds the day before and after so we timed it well. We climbed up to the trig point and slid back down again, took some pics, handed round the hip flasks, had something to eat – unfortunately Val didn't get a chance to open and prepare the tinned food he carried up there – and then set off back down again.
Going up was fairly tough, coming back down was worse. Some say brutal. It certainly took its toll on knees, ankles, quads, shoulders, patience and occasionally, sense of humour! Anyway as we limped back to the hostel our guides said we had been the quickest group they had taken up the Ben and even more impressively, we stuck together as a team.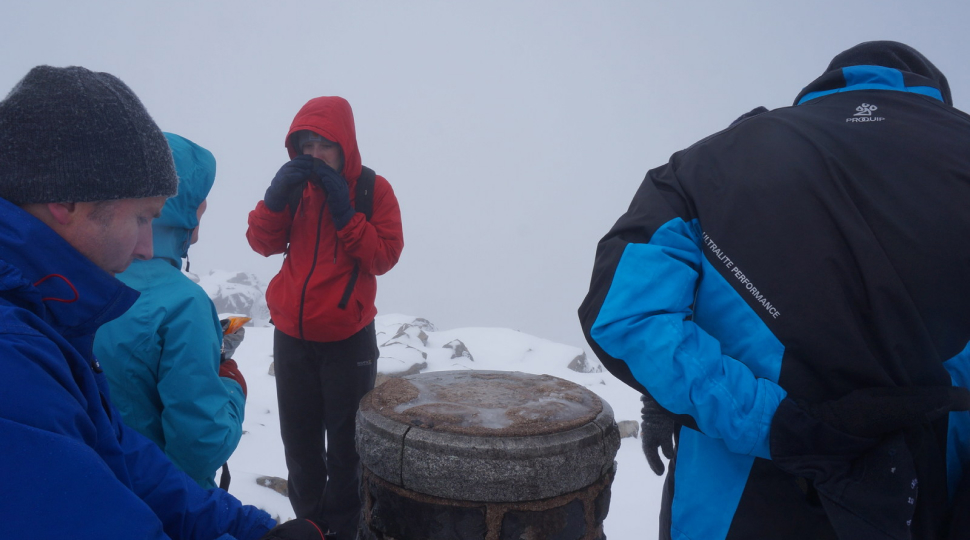 A quieter dinner in the boozer, a sing song from Iain, who'd brought his guitar and tambourine, and much then needed bed. Before heading back to Edinburgh we drove to the end of Glen Nevis, a natural amphitheatre where the quidditch scene was staged in Harry Potter for a quick warm down walk. 'Ignore the sign saying danger of death' our guides told us, it's a nice walk... I bottled it halfway along as it all turned a bit Chris Bonnington and returned to the minibus but the others made it to the falls. Job done. We stopped for a break on the way home, and for the first time witnessed the amazing Ben Nevis effect on everyone's legs as they fell out of the minibus and literally couldn't manage the four or five steps up to the loos.
Believe me, the minibus was a different story on the way home, thanks Shona for not falling asleep – every other bugger did!